Recap of the 10th Annual CiderCon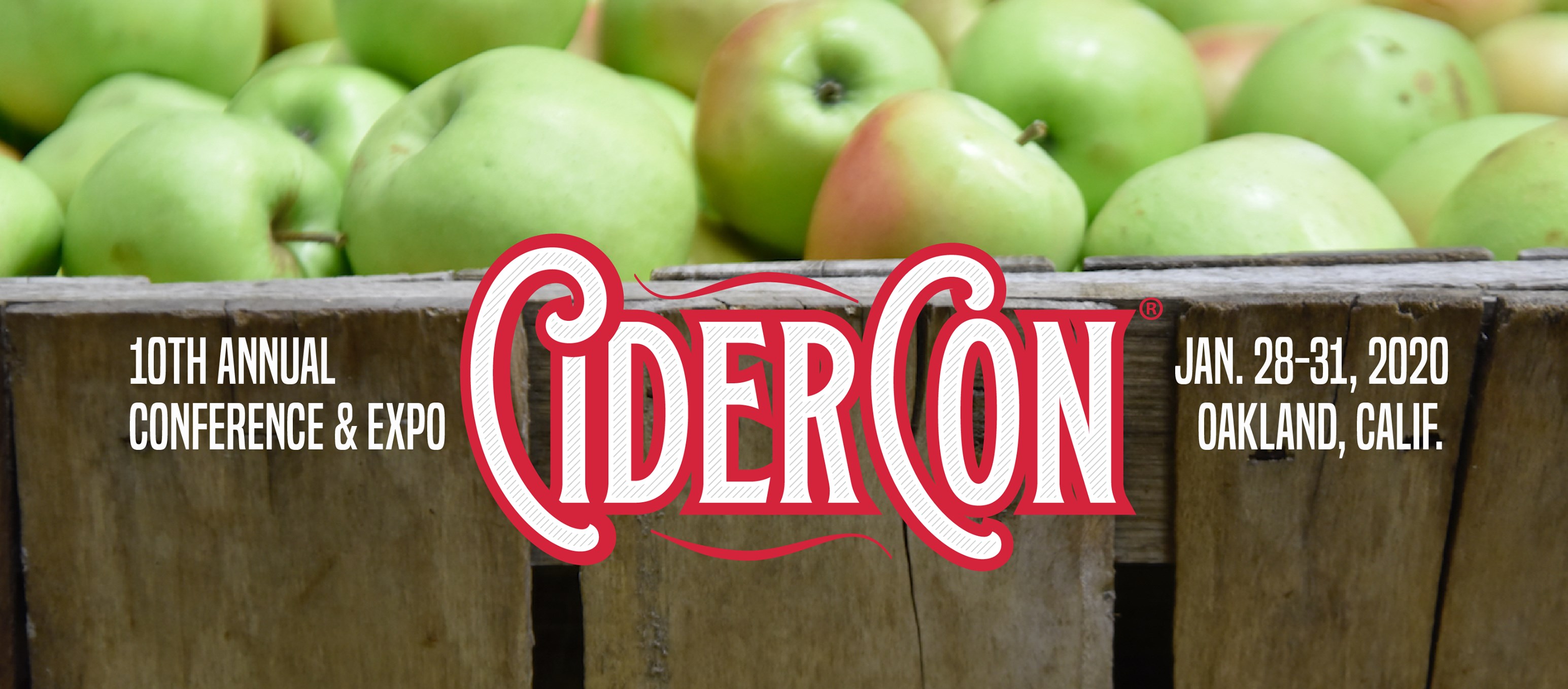 The 10th Annual CiderCon took place last week in Oakland, California from January 28-31, 2020. Hosted by the American Cider Association[1], this year's trade show was the largest CiderCon trade show to date. The CiderCon 2020 program can be downloaded here[2].
The annual four-day cider conference attracted 1029 cider professionals from 11 countries that included Canada, South Korea, Ireland, Japan, United Kingdom, Russia, Kazakhstan, Spain and Switzerland. When it came to attendance from the U.S., 35 states were represented, with California, New York, Michigan, Washington, Oregon, Massachusetts and Virginia showing the largest number of attendees.
CiderCon 2020's keynote speaker was Jill Giacomini of Point Reyes Farmstead Cheese Co. According to the association's press release Giacomini discussed the creamery's value-based approach to innovation for growth. The general session included a selection of the creamery's cheeses paired with a single varietal Gravenstein cider from Golden State Cider. To keep it local, the apples for the cider were grown less than thirty miles from the creamery.
The American Cider Association reached out to the Brewers Association as the cider trade show brought in Dr. Jackson-Beckham, Diversity Ambassador for the Brewers Association, to present techniques and strategies for authentically engaging underrepresented populations in the cider industry. Dr. Jackson-Beckham is also the Founder and Executive Director of Craft x EDU.
During the four-day conference there were 14 total tasting sessions at CiderCon 2020. This included ciders from outside the U.S. with featured international cider makers from Ireland. Irish cidermakers Tempted, Cider Mill, Legacy and Stonewell shared its ciders with attendees during the grand toast, including a keeved cider and a dessert cider made in the style of a digestif.
As cider sales slowdown from the growth rate the industry was experiencing a few years ago, CiderCon shared sales data from Nielsen, a global leader in retail measurement services. Nielsen reported that the cider market is 10 times larger than the industry was a decade ago. Regional/local ciders sales are up +15% YOY and their share is now 40% nationally in off-premise sales. Regional/local ciders are almost half of on-premise sales.
To assist in training attendees on cider, the American Cider Association offered its Certified Pommelier exam during CiderCon 2020. This is an advanced second level designation of its Certified Cider Professional program and is geared toward beverage and hospitality industry professionals. Over 40 attendees enrolled and took the test that includes a sensory evaluation section.
Each year during CiderCon, the American Cider Association board elections are held. On Friday, January 31st, the association elected Phillippe Bishop of Alpenfire Cider in Washington (At Large seat), Nicole Todd of Santa Cruz Cider in California (Pacific Coast chair), Talia Haykin of Haykin Family Cider in Colorado (Mountain West chair), John Behrens of Farmhaus Cider in Michigan (Midwest Chair), and Dave Takush of 2 Towns Cider House in Oregon (Large Cidery seat) to the board.
The 11th Annual CiderCon will take place in Chicago, Illinois over four days from February 2-5, 2020.
About The Author
Source URL: Read More
The public content above was dynamically discovered – by graded relevancy to this site's keyword domain name. Such discovery was by systematic attempts to filter for "Creative Commons" re-use licensing and/or by Press Release distributions. "Source URL" states the content's owner and/or publisher. When possible, this site references the content above to generate its value-add, the dynamic sentimental analysis below, which allows us to research global sentiments across a multitude of topics related to this site's specific keyword domain name. Additionally, when possible, this site references the content above to provide on-demand (multilingual) translations and/or to power its "Read Article to Me" feature, which reads the content aloud to visitors. Where applicable, this site also auto-generates a "References" section, which appends the content above by listing all mentioned links. Views expressed in the content above are solely those of the author(s). We do not endorse, offer to sell, promote, recommend, or, otherwise, make any statement about the content above. We reference the content above for your "reading" entertainment purposes only. Review "DMCA & Terms", at the bottom of this site, for terms of your access and use as well as for applicable DMCA take-down request.
Acquire this Domain
You can acquire this site's domain name! We have nurtured its online marketing value by systematically curating this site by the domain's relevant keywords. Explore our content network – you can advertise on each or rent vs. buy the domain. Buy@TLDtraders.com | Skype: TLDtraders | +1 (475) BUY-NAME (289 – 6263). Thousands search by this site's exact keyword domain name! Most are sent here because search engines often love the keyword. This domain can be your 24/7 lead generator! If you own it, you could capture a large amount of online traffic for your niche. Stop wasting money on ads. Instead, buy this domain to gain a long-term marketing asset. If you can't afford to buy then you can rent the domain.
About Us
We are Internet Investors, Developers, and Franchisers – operating a content network of several thousand sites while federating 100+ eCommerce and SaaS startups. With our proprietary "inverted incubation" model, we leverage a portfolio of $100M in valued domains to impact online trends, traffic, and transactions. We use robotic process automation, machine learning, and other proprietary approaches to power our content network. Contact us to learn how we can help you with your online marketing and/or site maintenance.