PRESS RELEASE: American Cider Association Announces 2020 Award Winners
Contact Michelle[1] for images and questions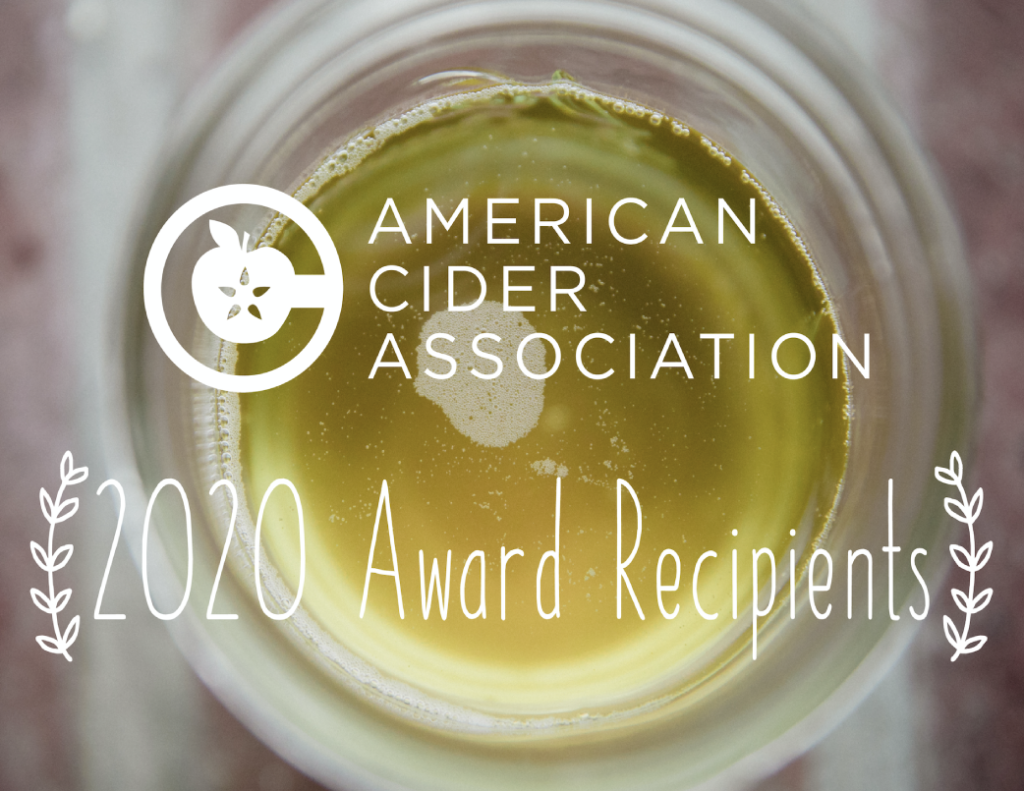 Hotels, Pizza Arcades, Distributors, and Wine Shops Among Those Recognized For Excellence In The Cider Industry
Portland, OR—Since CiderCon 2015, the American Cider Association[2] has bestowed industry honors on deserving partners. The association uses its awards as an opportunity to highlight individuals and businesses helping the cider category grow. The scope has expanded as more and more related industries get on board with serving, selling and appreciating the American hard cider industry. This year, certain awards were first announced at CiderCon 2020 in Oakland, CA—including Apple Advocate of the Year to the legendary John Bunker of Maine. Today the association announced all 30 of the 2020 award recipients.
The winners are geographically diverse by design, but the on- and off-premise account categories truly stand out in their range. They include arcades, hotels and boutique wine shops. Nominations originate from the association's members. This was the first year the association's enthusiast-level members were invited to participate in the nominations along with trade and industry members.
"Our enthusiast members are out there drinking cider in their communities every day. They know who has the best cider list," said the association's board president, Paul Vander Heide.
"One of our goals is for cider to
be a mainstream beverage, not just a niche offering. This year's winners show
us that we're moving the needle on this goal. Local liquor stores are
supporting cider, but so are seemingly random on-premise accounts," said the
association's executive director, Michelle McGrath. "It will be fun to watch
these categories over the next couple years."
The awards also recognize
distributors who are helping cider shine by maintaining diverse and plentiful
cider portfolios and educating themselves about cider styles. "Regional cider
brands grew 14.2% in 2019 according to Nielsen," emphasized Vander Heide. "That
didn't happen in a vacuum. Distributors were absolutely key facilitators of
that growth." 
McGrath hopes that winners show
pride in their contributions to the sector. "I hope that all the winners feel great
about supporting a growing industry that includes farmers, artisan producers,
craft manufacturers and allied industries like steel and glass. It's good to
invest in cider—good for America," she said.
2020 Cider Excellence Award Winners
Apple Advocate of the Year: John Bunker[3] of Maine
Significant Contribution to the Cider Industry: Darlene Hayes of California
Pommelier of the Year: (2 Awards) Brian Rutzen, Ambrosia Borowski of Illinois
American Cider Association Member of the Year: Treehorn Cider,[4] Atlanta, GA
Cider Journalism Excellence: "Cider, Wine's Overlooked Category" by Alexander Peartree for Wine Enthusiast[5]
East Coast
Midwest
Mountain West
Pacific Coast:
Northwest:
South:
###
Source URL: Read More
The public content above was dynamically discovered – by graded relevancy to this site's keyword domain name. Such discovery was by systematic attempts to filter for "Creative Commons" re-use licensing and/or by Press Release distributions. "Source URL" states the content's owner and/or publisher. When possible, this site references the content above to generate its value-add, the dynamic sentimental analysis below, which allows us to research global sentiments across a multitude of topics related to this site's specific keyword domain name. Additionally, when possible, this site references the content above to provide on-demand (multilingual) translations and/or to power its "Read Article to Me" feature, which reads the content aloud to visitors. Where applicable, this site also auto-generates a "References" section, which appends the content above by listing all mentioned links. Views expressed in the content above are solely those of the author(s). We do not endorse, offer to sell, promote, recommend, or, otherwise, make any statement about the content above. We reference the content above for your "reading" entertainment purposes only. Review "DMCA & Terms", at the bottom of this site, for terms of your access and use as well as for applicable DMCA take-down request.
Acquire this Domain
You can acquire this site's domain name! We have nurtured its online marketing value by systematically curating this site by the domain's relevant keywords. Explore our content network – you can advertise on each or rent vs. buy the domain. Buy@TLDtraders.com | Skype: TLDtraders | +1 (475) BUY-NAME (289 – 6263). Thousands search by this site's exact keyword domain name! Most are sent here because search engines often love the keyword. This domain can be your 24/7 lead generator! If you own it, you could capture a large amount of online traffic for your niche. Stop wasting money on ads. Instead, buy this domain to gain a long-term marketing asset. If you can't afford to buy then you can rent the domain.
About Us
We are Internet Investors, Developers, and Franchisers – operating a content network of several thousand sites while federating 100+ eCommerce and SaaS startups. With our proprietary "inverted incubation" model, we leverage a portfolio of $100M in valued domains to impact online trends, traffic, and transactions. We use robotic process automation, machine learning, and other proprietary approaches to power our content network. Contact us to learn how we can help you with your online marketing and/or site maintenance.